Mary Ann Hooks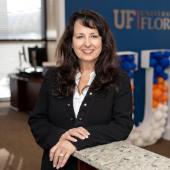 Director of governmental affairs for the University of Florida Institute of Food and Agricultural Sciences (UF/IFAS)
Mary Ann is responsible for educating state and federal legislators on IFAS programs and issues. She monitors and affects legislation that impacts the IFAS budget, programs and other initiatives. Hooks also acts as a liaison to the agriculture industry and other IFAS stakeholders.
Her professional background has focused heavily on the legislative process, water, land use, growth management and environmental policy.
Hooks served as director of government and community affairs for the Florida Farm Bureau Federation ( FFBF) from 2005 until 2009. In that position, she was a liaison between FFBF members, state and federal agencies, legislators and local governments.
She had been with the FFBF staff since 1996 and, until 2005, was assistant director of government and community affairs. Before joining the FFBF, Hooks was a legislative assistant to state Rep. Bert Harris Jr., D-Lake Placid, from 1989 until 1995, managing legislation, tracking it from committee to final vote, writing speeches and handling constituent inquiries.
From 1988 until 1989, she was an assistant to state Sen. Don Childers, D-West Palm Beach, handling similar duties.
Hooks is a Florida native who grew up in the cattle industry in Lorida, FL. Mary Ann Hooks resides in Tallahassee FL, with her husband.
---
Christopher Hodge
Assistant Director of governmental affairs for the University of Florida Institute of Food and Agricultural Sciences
Working alongside Mary Ann Hooks, he helps monitor legislative issues that affect UF/IFAS and related industries. Christopher develops and implements strategies designed to build governmental partnerships to stimulate funding opportunities, foster innovation, and further the UF/IFAS mission. He also manages and coordinates the UF/IFAS Council on Agriculture, Research, Extension, and Teaching (CARET).
Christopher has previously worked in the Florida House of Representatives as Legislative Assistant to Representative James Buchanan. In his time in the Florida House, Christopher worked on statewide environmental, agricultural, and flooding policy and appropriations.
Christopher earned his bachelor's degree in Biomedical Sciences with a minor in Medical Anthropology from UCF. He also holds a Master of Business Administration from the University of Florida. As a student, he was active on campus and in state politics, serving in several leadership positions of student organizations and interning in the Florida State Capitol.