History
While the University traces its roots to 1853 and the establishment of the state-funded East Florida Seminary, UF/IFAS traces its roots to the Morrill Act of 1862, which established the land-grant university system.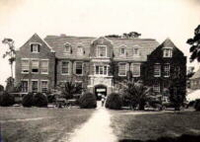 On July 2, 1862, President Abraham Lincoln signed into law what is generally referred to as the Land-Grant Act. The new piece of legislation, which was introduced by U.S. Representative Justin Smith Morrill of Vermont, granted each state 30,000 acres of public land for each senator and representative under apportionment based on the 1860 census.
Proceeds from the sale of these lands were to be invested in a perpetual endowment fund that would provide support for colleges of agriculture and mechanical arts in each of the states.
The establishment of Florida Agricultural College at Lake City in 1884 under the Morrill Act marked the beginning of what became the College of Agriculture of the University of Florida in 1906.
Read the rich history of federal legislation leading to land-grant institutions.
Florida's governing body for higher education created the Institute of Food and Agricultural Sciences in April 1964, by reorganizing UF's College of Agriculture, School of Forestry, Agricultural Experiment Station, and the Cooperative Extension Service into a single unit.
Today, UF/IFAS includes:
Extension offices in each of the state's 67 counties
12 Research and Education Centers with a total of 20 locations (including demonstration sites) throughout Florida
the College of Agricultural and Life Sciences
the School of Forest Resources and Conservation
the School of Natural Resources and Environment
the Center for Tropical Agriculture
portions of the College of Veterinary Medicine, the Florida Sea Grant Program, and International Programs.
Read more about our schools and departments.