About UF/IFAS
The Mission of UF/IFAS is to develop knowledge in agricultural, human, and natural resources, and to make that knowledge accessible to sustain and enhance the quality of human life.
Leadership
UF/IFAS operates under the leadership of Senior Vice President Dr. J. Scott Angle and Senior Associate Vice President Dr. Jeanna Mastrodicasa.
---
UF/IFAS Overview
The University of Florida's Institute of Food and Agricultural Sciences (UF/IFAS) is a federal-state-county partnership dedicated to developing knowledge in agriculture, human and natural resources, and the life sciences.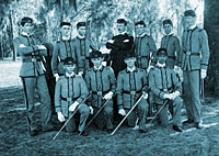 UF/IFAS fulfills the university's land grant mission - working to enhance and sustain the quality of human life through its research facilities, Extension services offered in every Florida county, and top-ranked education at the UF College of Agricultural and Life Sciences.
These endeavors combined contributed $149.6 billion to the state economy in 2018. From that figure, UF/IFAS specifically contributed $458 million.
In addition, research, teaching, and Extension efforts help sustain and support 8,862 jobs across the Sunshine State. Specifically, UF/IFAS employs more than 2,000 faculty and staff statewide, including 375 Extension agents. These professionals work from UF/IFAS offices in each of Florida's 67 counties, as well as at the University of Florida main campus in Gainesville.